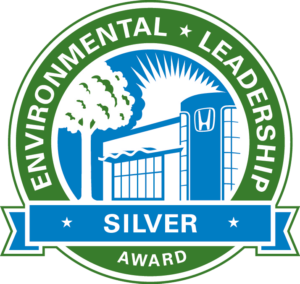 ROCHESTER, New York – January 3, 2017 – Recycling and "going green" is a widespread trend gaining traction across America, and now auto dealers want to be a part of the movement to reduce their own energy consumption and environmental impact. Garber Honda, part of the Garber Automotive Group, has transformed their dealership into an energy-efficient facility that have already offset over 140 tons of CO2 emissions and received recognition from American Honda Motor Company for their leadership and commitment to the environment.
American Honda Motor Company was the spark plug behind the initiative, creating a 93-page "Green Dealer" guide that seeks to educate auto dealers across the nation what they can do to lessen their carbon footprint. Garber Automotive is a proud advocator of environmental protection with a commitment to making a difference, so getting involved with the cause was a no-brainer for the organization.
Garber Honda started by making a significant investment in their building including exterior LED lighting that adjusts according to daylight, roof-mounted solar panels, and the replacement of heating and cooling units with top energy-saving models. Not to mention energy efficient windows, low flow toilets, four on-site electric vehicle charging stations, as well as a legion of recycling processes.
"I believe in the philosophy that small changes eventually add up to huge results," says Kevin Parker, Managing Partner of Garber Rochester. "When it comes to reducing our carbon footprint this concept applies as well. None of the items by themselves amount to much, but when you add the solar panels, LED lighting, as well as other things it makes a big difference."
Their energy saving efforts didn't go unnoticed; on December 29th American Honda Motor Company awarded Garber Honda a Silver Environmental Leadership Award for their accomplishments. The award was created to acknowledge Honda and Acura dealers for their exemplary efforts in minimizing emissions and implementing new, green practices that result in a 30% or more verified energy reduction.
The profound success of Garber Honda becoming a green dealer has inspired other Garber dealerships to strive for the same goal. By joining forces and employing similar green practices, the Garber organization hopes to make a continued positive impact on the environment.
Garber Honda was acquired in 2011 by the Garber Automotive Group, along with Acura of Rochester, Porsche of Rochester and Audi Rochester. They are a part of a company that now owns 16 dealerships and growing with locations in New York, Florida, Illinois, and Michigan. Garber facilities have a vision of providing the best automotive sales and service, all while giving back to the community and environment as well.
Contact:
Shauna Lauricella
slauricella@garberroc.com
3955 W. Henrietta Rd.
Rochester, NY 14623
(585) 486-9080