The all-new Honda Civic Hatchback has aged like a fine wine. After almost 50 years in the making, the Civic is arguably the best it's ever been.
Here's why:
The all-new Civic Hatchback adds an exclusive honeycomb grille on every trim level. Inspired by European fastbacks, the 2022 Civic's sporty look steals your attention. And with its beauty comes functionality.
Its arching roofline not only adds to the Honda Civic's sporty style but also provides more headroom and extra cargo room. Its 24.5 cubic feet of cargo room provides the flexibility most sedans simply don't offer.
What's more is the all-new Honda Civic Hatchback offers an optional six-speed manual transmission so you can make the most out of its enhanced structure, tuned steering, and updated suspension. Opt for the zippier 1.5-liter turbocharged engine to unleash exhilarating three-pedal driving with 180 horsepower and 177 pound-feet of torque at your fingertips. Whether you choose the six-speed manual or keep the automatic CVT, you won't sacrifice at the pump, getting 32 mpg combined and 34 mpg combined respectively.
Sportiness Meets Luxury
Don't let the all-new Civic Hatchback's coupe-esque style fool you, there's plenty of room and tech inside. Second-row passengers get 1.4 inches of added legroom, and the cargo area gets a 1.6-inch wider opening for easier loading.
Its tech reaches new heights with a 7-inch partially digital gauge cluster and standard touchscreen. The Civic's highest trim sports a fully digital 10.2-inch gauge cluster and a 9-inch touchscreen. Both sets of screens are the largest offered in any Honda vehicle ever.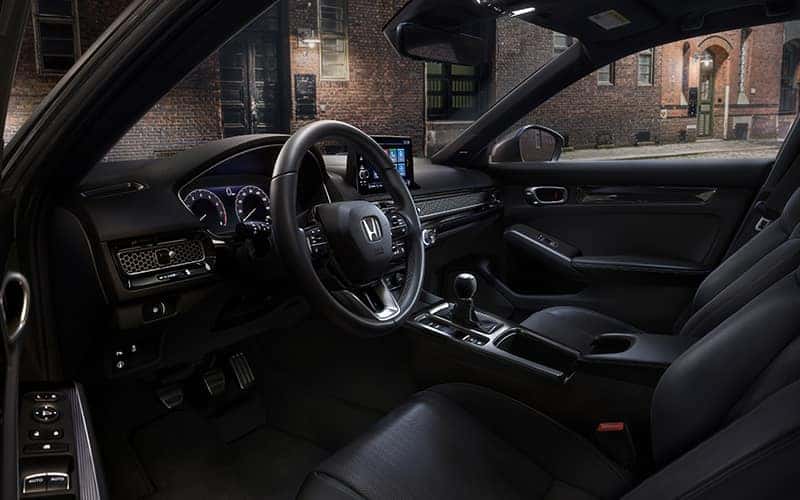 Need more than size? How about standard Apple® Carplay and Android Auto™ across the board? Now you can stay connected to the available 12-speaker Bose® premium sound system no matter where you are. Staying connected means you'll need to stay charged. Good thing there's an available wireless charging pad.
Don't forget about comfort. Extensive structural adhesives, spray-in foam, and a reimagined floor design keep the interior quiet, so you can enjoy conversation with your passengers or blare your favorite songs without any interruption.
Safety is The Standard
Honda doesn't play around with keeping their drivers as safe as possible. That's why the 2022 Civic Hatchback is equipped with groundbreaking front airbags that focus on head and neck safety.
While it's nice to know they're there, the ultimate goal is to keep collisions at bay. The all-new Civic Hatchback shows its commitment to that with standard Honda Sensing® active safety features on a rejuvenated single camera system that provides a longer, wider view than ever before.
From adaptive cruise control and collision mitigation, to road departure warnings and traffic sign recognition, the all-new Honda Civic Hatchback has you and your passengers' safety at the top of their list.
See the full Honda Sensing® lineup in depth:
Make visiting one of our dealerships a top priority to test drive the all-new Civic Hatchback. Or get your custom Civic Hatchback pre-ordered now!
Stay informed about the Civic Hatchback's arrival and other Honda news by following us on Facebook and Instagram!
Sources:
https://www.motor1.com/news/515867/2022-honda-civic-hatchback-debut/
https://hondanews.com/en-US/honda-automobiles/releases/release-53541be6030b25a47a2899aba12f09d7-2022-honda-civic-hatchback-makes-global-debut-during-honda-civic-remix-virtual-performance
https://www.youtube.com/watch?v=qcDzl39wKHE
https://automobiles.honda.com/future-cars/2022-civic-hatchback#features-specs
https://hondanews.com/en-US/releases/2022-honda-civic-hatchback-makes-global-debut-during-honda-civic-remix-virtual-performance
https://www.caranddriver.com/photos/g36791110/2022-honda-civic-hatchback-revealed-gallery/?slide=1
Disclaimer: Based on 2022 EPA mileage ratings; Use for comparison purposes only; your mileage will vary depending on how you drive and maintain your vehicle, driving conditions, and other factors.