Honda Restores a 1961 Chevy Pickup to Celebrate its 60th Anniversary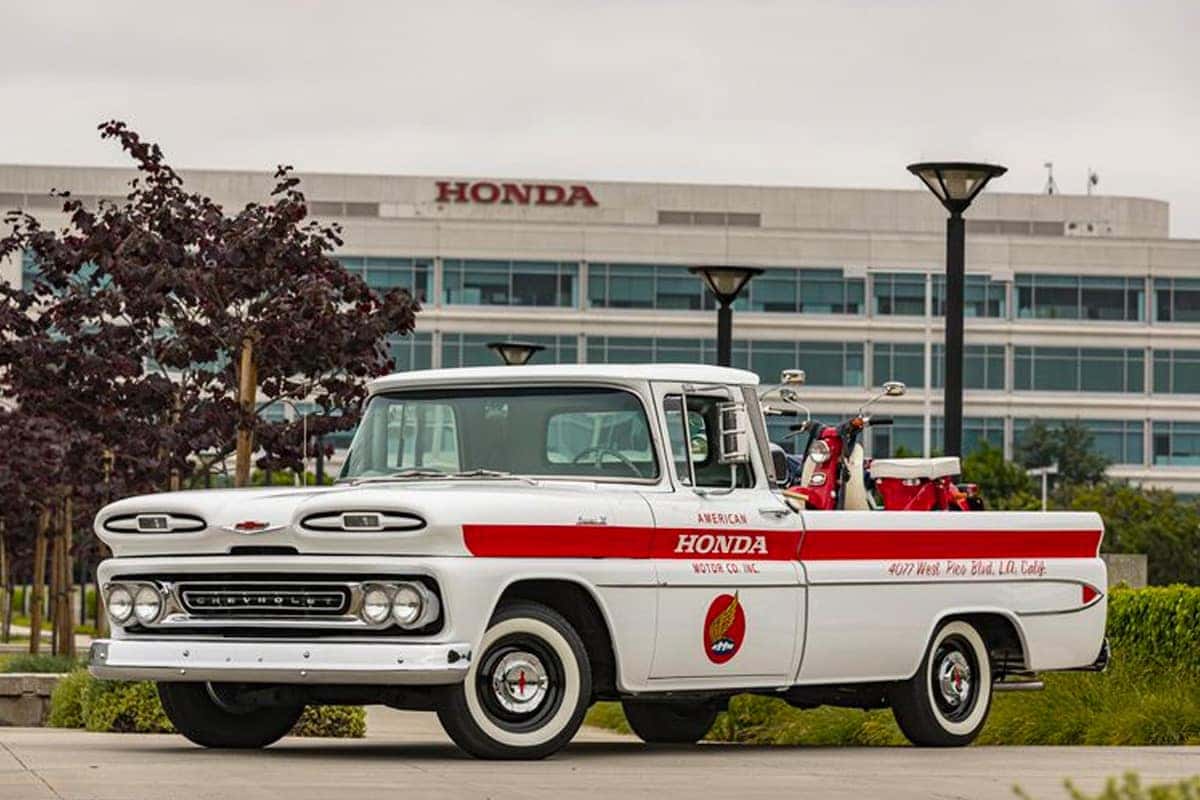 Back in 1959, American Honda Motor Co., Inc opened its doors in the U.S. as a motorcycle dealer. To facilitate the delivery of motorcycles to its Southern California dealers, the brand turned to a small fleet of Chevy Pickups. To celebrate Honda's 60th anniversary in America and its unlikely connection to Chevy, the automaker has restored a 1961 Chevy pickup to match the one made famous in a circa-1961 photo in front of Honda's original home office in Los Angeles.
Using archive files of the pickup and the memories of retired workers who remembered this iconic pickup, Honda carefully found a pickup that most closely matched the one in the image and renovated. Part of the renovation was the original white body paint, hand-painted red stripes, and other hand-painted accents.
Honda also freshened up the 283-cubic-inch engine, restoring it to its original 160 horsepower and attaching it to a three-speed manual transmission.
To complete the package, Honda also restored two motorcycles this truck would commonly deliver: a 1965 Honda 50 and a 1965 Honda CB160. The Honda 50 put the brand on the map in the U.S. and around the world with it being such an easy bike for virtually anyone to ride. The CB160 was one of Honda's earlier small-displacement sport bikes that delivered a spirited ride with its 161 cc engine that delivered 16.5 horsepower through a four-speed manual transmission.
This restored beauty is up for viewing at Honda's Torrance, California headquarter, but it will also make the auto-show tour, including the 2019 SEMA show. After its run on the show circuit is complete, this pickup will retire to the American Honda Collection Hall in Torrence, California and will sit in front of a mockup of the original Los Angeles headquarters.
Sure, you can't buy a 1961 Chevy pickup at your local Honda showroom, but if hauling is your game, the Honda Ridgeline may be a great option for you. Swing by Garber Honda in Rochester, New York today to test drive this tailgating- and work-ready pickup today. If you can't make it into our new-Honda showroom serving the Rochester, Henrietta, and Pittsford areas today, you can check out our online inventory to see our available Ridgeline models, choose one that suits you, and schedule a future test drive.
Join the Conversation
Comments
comments